Order online / also available at Et al. books in San Francisco
Smooth Friend is delighted to announce our first printed publication, a novella by Claudia La Rocco. Drive By is a sort of homecoming story, told in tumbling fragments of science fiction, art criticism, and strange encounters, anchored to shore by La Rocco's irreverent and humane cast of characters, funny dialogue, and resonant sense of place. We can't wait for you to meet Clarice.
Praise for

Drive By

Drive By is hot throbbing noir twisted into a mobius strip of flashing lights, unreliable narration, and polyphonic intertext. Through sea and storm, our pizzeria diva Clarice goes along with what comes along, all the while shielding a secret in her nagging past—of which, "already the details were slipping beyond her grasp." In this distilled, unsettling novella, Claudia La Rocco writes into the mythologies of women's lives, disentangling the violent shock of awakening. Drive By's glancing critique of storytelling bends memory into a wondrous bouquet of reckonings. What just happened? The last page sent me right back to the first, ready to read it all over again.

Maxe Crandall, author of The Nancy Reagan Collection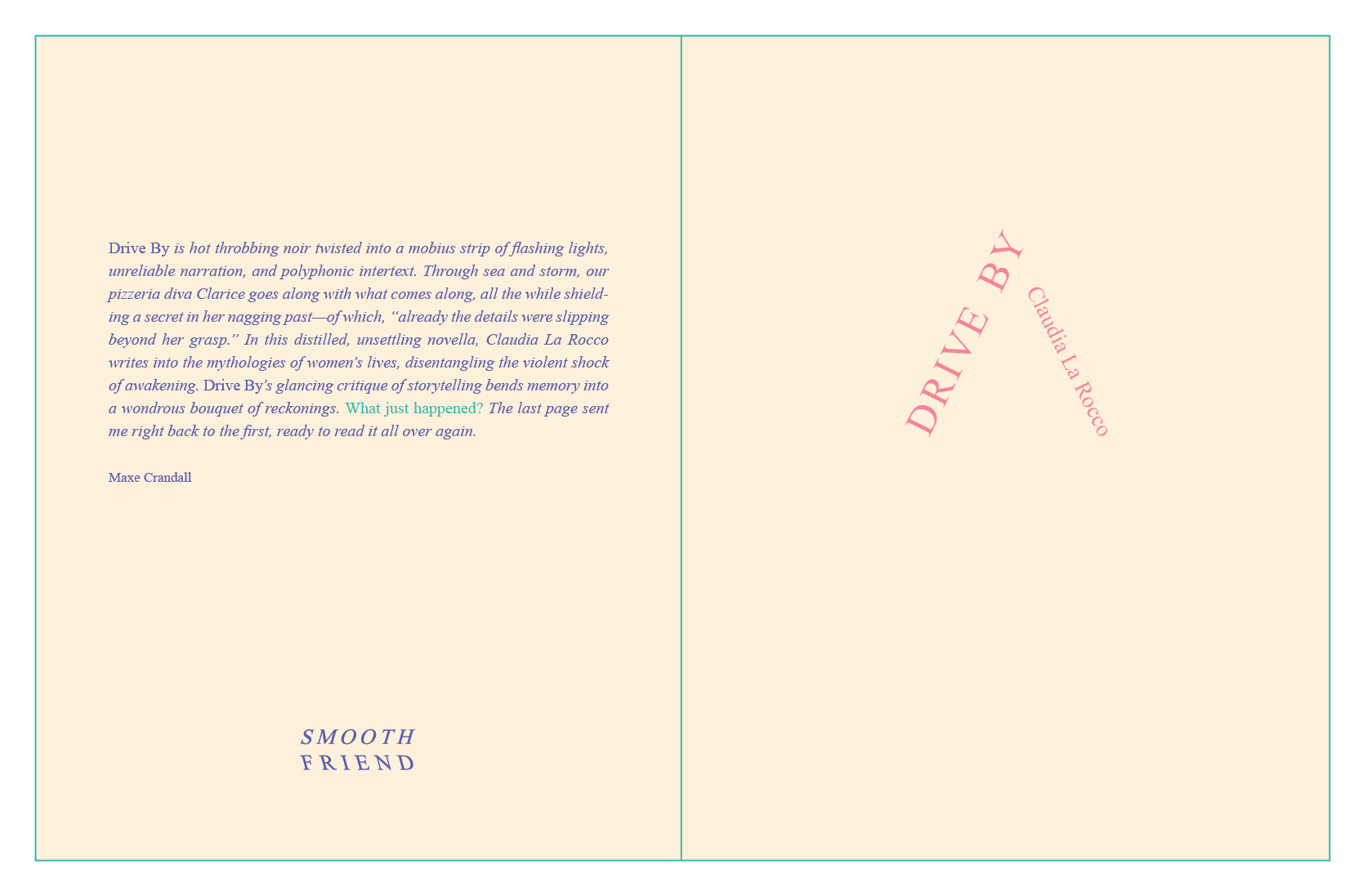 Drive By / Claudia La Rocco / December 1, 2022 / 5½ x 7 inches, 48 pages, paper cover, 11,407 words / Printed by machine and bound by hand in San Francisco, California
⋀
Claudia La Rocco is the author of Certain Things (Afternoon Editions); Quartet (Ugly Duckling Presse); The Best Most Useless Dress (Badlands Unlimited); I am trying to do the assignment ([2nd Floor Projects]); and petit cadeau, a novel published in live, digital, and print editions by the Chocolate Factory Theater. With musician/composer Phillip Greenlief and revolving guest artists she is animals & giraffes, an ongoing experiment in interdisciplinary improvisation. La Rocco edits The Back Room, a Small Press Traffic publishing project.